Georgetown University graduate employees have voted decisively for a union, with more than 83 percent voting yes. On Nov. 9, they delivered their intent to bargain with the university administration.

The victory is historic for higher education and labor: First, few private universities recognize collective bargaining for their graduate workers; and second, this election set a new path to recognition, circumventing the Trump-appointed National Labor Relations Board and instead certifying the vote through the American Arbitration Association.
"When we started organizing GAGE [the Georgetown Alliance of Graduate Employees] several years ago, the idea of one day winning a union election seemed unlikely, given the current political climate's hostility toward unions," says Hailey Huget, a doctoral candidate in philosophy. "Here's how we did it: We talked to our peers, we listened to them, and we built a union that put their needs first. We engaged community allies. All of us worked together to put pressure on Georgetown to live up to its values and recognize the dignity of our labor."
The argument many universities make—that graduate employees are students, rather than workers—is false. "We are teaching assistants, teaching associates, research assistants and graduate student assistants, and most importantly, we are workers," says Cate Sevigny, a doctoral candidate in biology. Graduate employees prepare and teach classes, run science labs, conduct research, write grants and help create a true community of learning on campus. A voice on the job will help them do that job better and push for improvements to the classes they teach and the research they conduct.
Among the issues GAGE members hope to tackle are: a living wage; improved access to health insurance, including dental and vision; better family leave and daycare options; and protections for international students. "I am so excited to see what comes next for GAGE," says Huget. "Let's keep making history and showing private universities around the country that grad labor is real labor, and that our voices won't be silenced."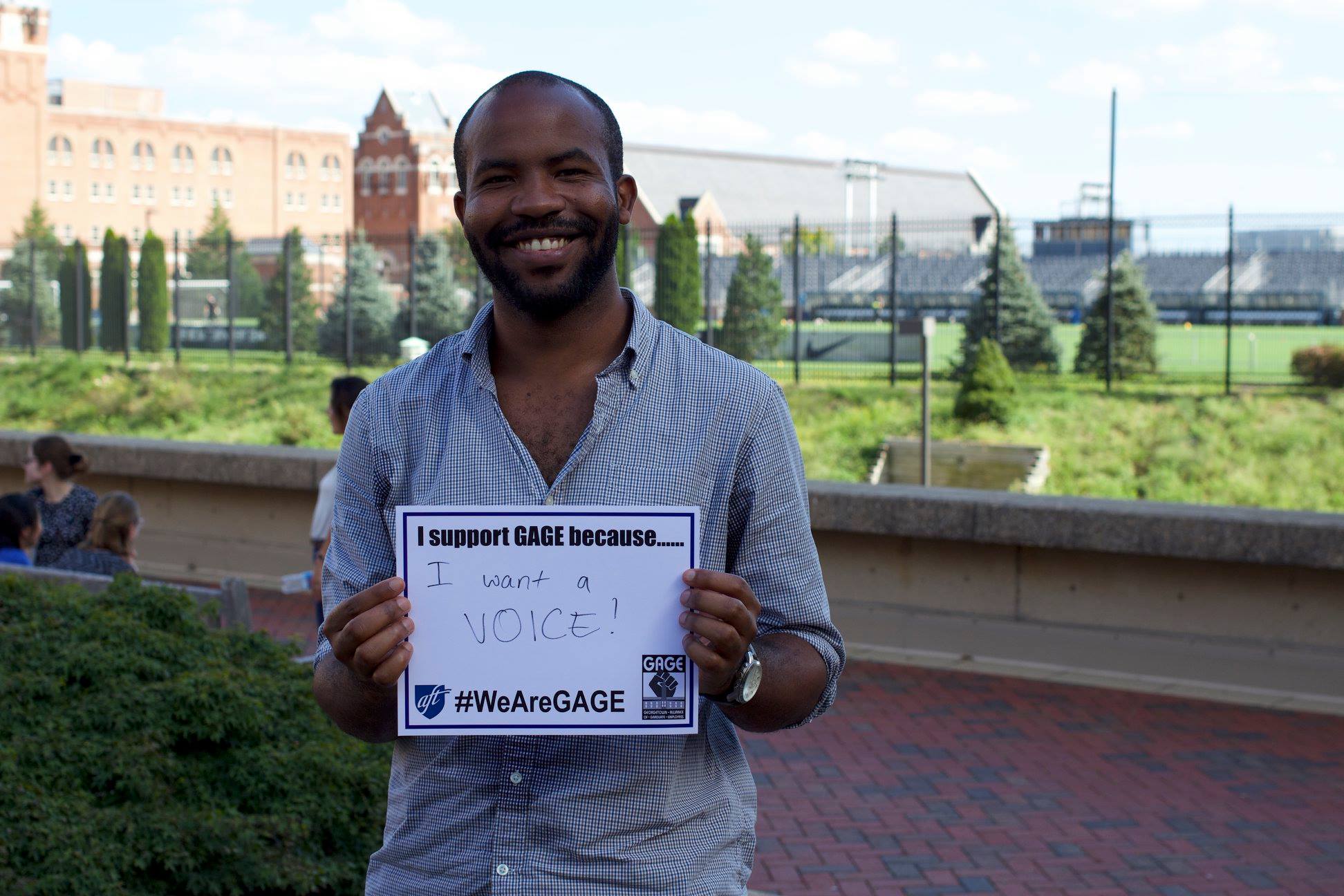 "With their historic vote, Georgetown graduate employees recognized that when you stand up and exercise your voice with others, you accomplish far more together than you could alone," says AFT President Randi Weingarten, who called out other universities for denying grad workers a voice on the job. "We want to thank Georgetown University for joining us in a groundbreaking agreement, creating a process to ascertain the will of its graduate workers, and honoring its word to remain neutral. Having a university partner in this vote was critical, and it sends a message to other university employers around the country that working with their grads is not only possible, it's beneficial to every student and teacher on campus."
[AFT Media Affairs, Virginia Myers]